May 26, 7:00 pm - 8:30 pm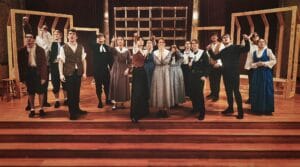 Don't miss the final drama performance of the 2022-23 school year at Trinity School at Greenlawn. Seniors will perform Arthur Miller's The Crucible, on Friday, May 26, at 7:00 p.m.
In Salem, Massachusetts, in 1692, a group of girls falsely accuse several townspeople of witchcraft to cover up their own illegal attempts at conjuring spirits. The accusations prompt a court investigation of the alleged crimes. John and Elizabeth Proctor, a farming couple with a troubled marriage, become embroiled in the trials when Abigail Williams, the ringleader of the girls and John's former mistress, accuses Elizabeth of being a witch. John tries to prove his wife's innocence but is ultimately charged himself. As the trials unfold, John faces a difficult choice between saving his life or protecting his good name. Based on actual events, this play is a haunting tale of manipulation, betrayal, and the danger of unchecked accusations.
Please note that some content may not be suitable for young children (ages ten and younger).
Admission is free and doors open at 6:30 p.m.