Trinity School at Greenlawn sent three teams, in a field of 24, to the mock trial state competition in Indianapolis earlier this month. Congratulations to our senior team Time to Retire for winning the state championship outright by defeating an outstanding Heritage Christian team that won the state championship last year. Time to Retire was the only team that went undefeated, not losing a single ballot, much less a round. This is the same group of students who made it to the national competition in both 2021 and 2022. As sophomores in 2021 they won second place at the national level. Clearly, this team refuses to retire!
---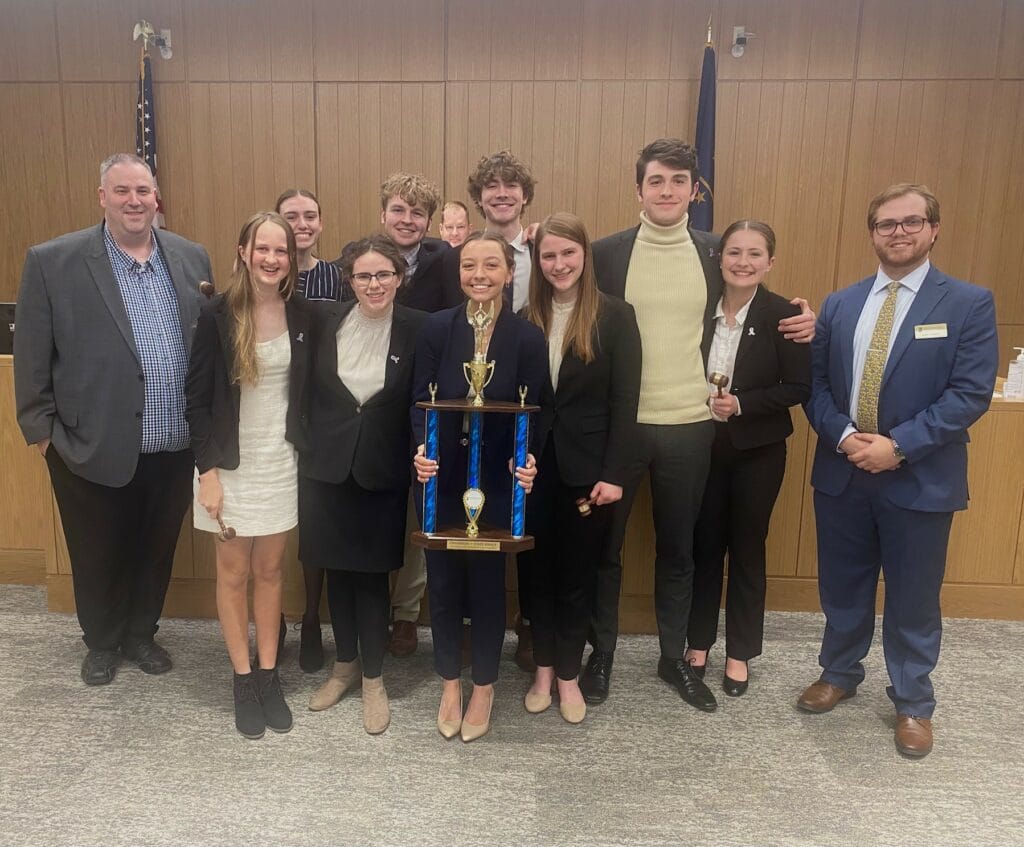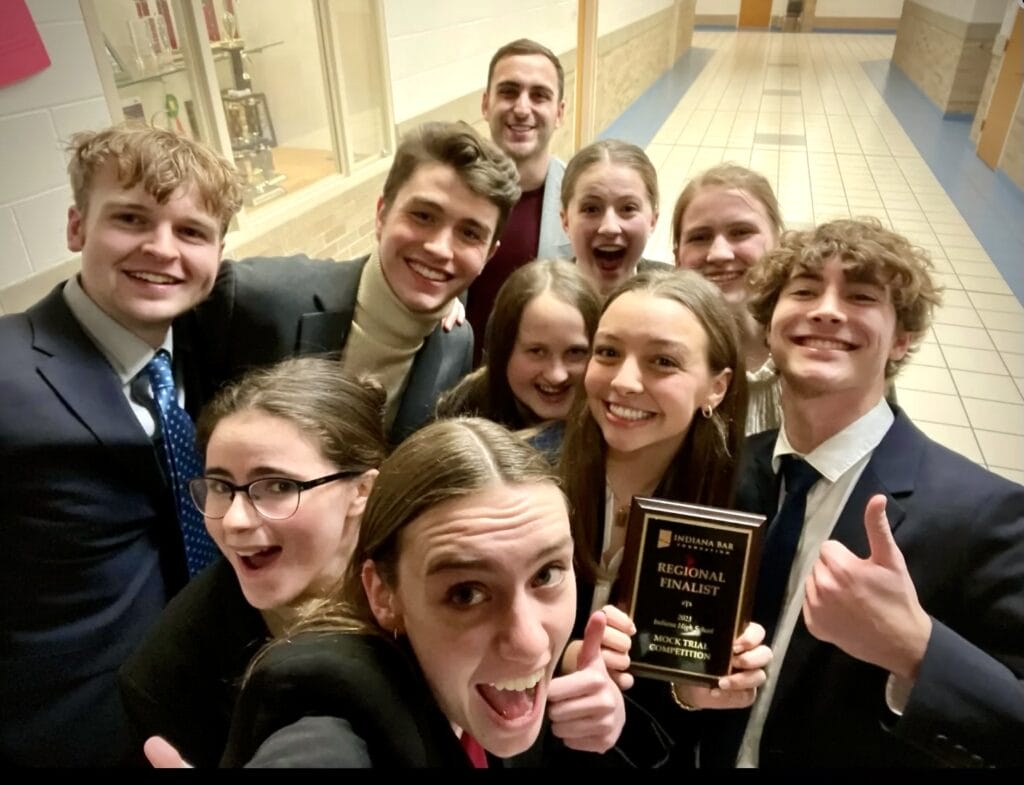 ---
Congratulations also goes to our junior team Shooting Stars, coached by alumnus Nicholas Lebbin, who placed eighth in the state, and our freshman team Young Guns, coached by Trinity School parent Mike Palmer, who tied for tenth. Although the sophomore team, coached by Trinity School parent and alumnus
John Drake, did not qualify for state this year, they made a terrific showing at the regional level. The future is bright for Trinity School's mock trial program!
---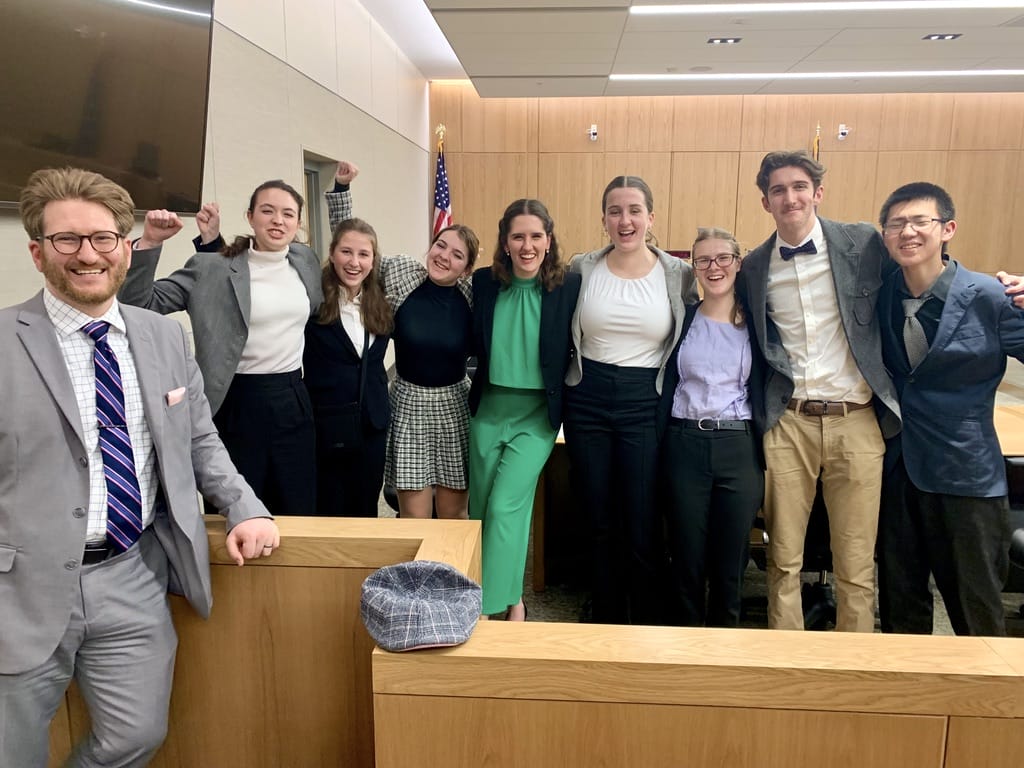 ---
Many of our students won individual outstanding witness and attorney awards, but only senior Sophie Miller earned the distinction of winning Outstanding Attorney award in four of five rounds, including the Championship Round.
Junior Faustina Bernardy won an Outstanding Attorney award, and juniors Caleb DeLorenzo and Esme Wickes were both recognized as Outstanding Witness. Two Freshmen won awards at the state competition. Owen Buccellato won an Outstanding Witness award and Annie Palmer won multiple Outstanding Attorney awards and, along with Sophie Miller, was recognized as one of the top ten attorneys in the competition. Sophia Newlands, and Danny O'Callaghan were awarded Outstanding Witnesses. Henry Woodward won two Outstanding Witness awards and was recognized as one of the top ten witnesses. The remaining members of Time to Retire include Ellen Burks, Emma Busk, Claire Capdevielle, James Cressy, and Katrina Fay. They will be representing Trinity School, and indeed the state of Indiana, at the national competition to be held in Little Rock, Arkansas, from May 18-20.
To complete an already amazing weekend, the senior's coach Hunter Van Asten won the Dennis Wood Dedication Award, presented to a mock trial supporter dedicated to the values and integrity that the Indiana Bar Foundation attempts foster in high school students. Hunter began coaching our senior team when they were freshman, during his first year as a Notre Dame law student. He went on to coach the same team both in-person and remotely over the course of the last four years. As the Indiana Bar Foundation stated, "A former high school Mock Trial participant, Van Asten demonstrates a level of dedication, enthusiasm, and commitment to learning worthy of the Woods Award. Congratulations!"
Congratulations to all for an outstanding 2023 mock trial season!